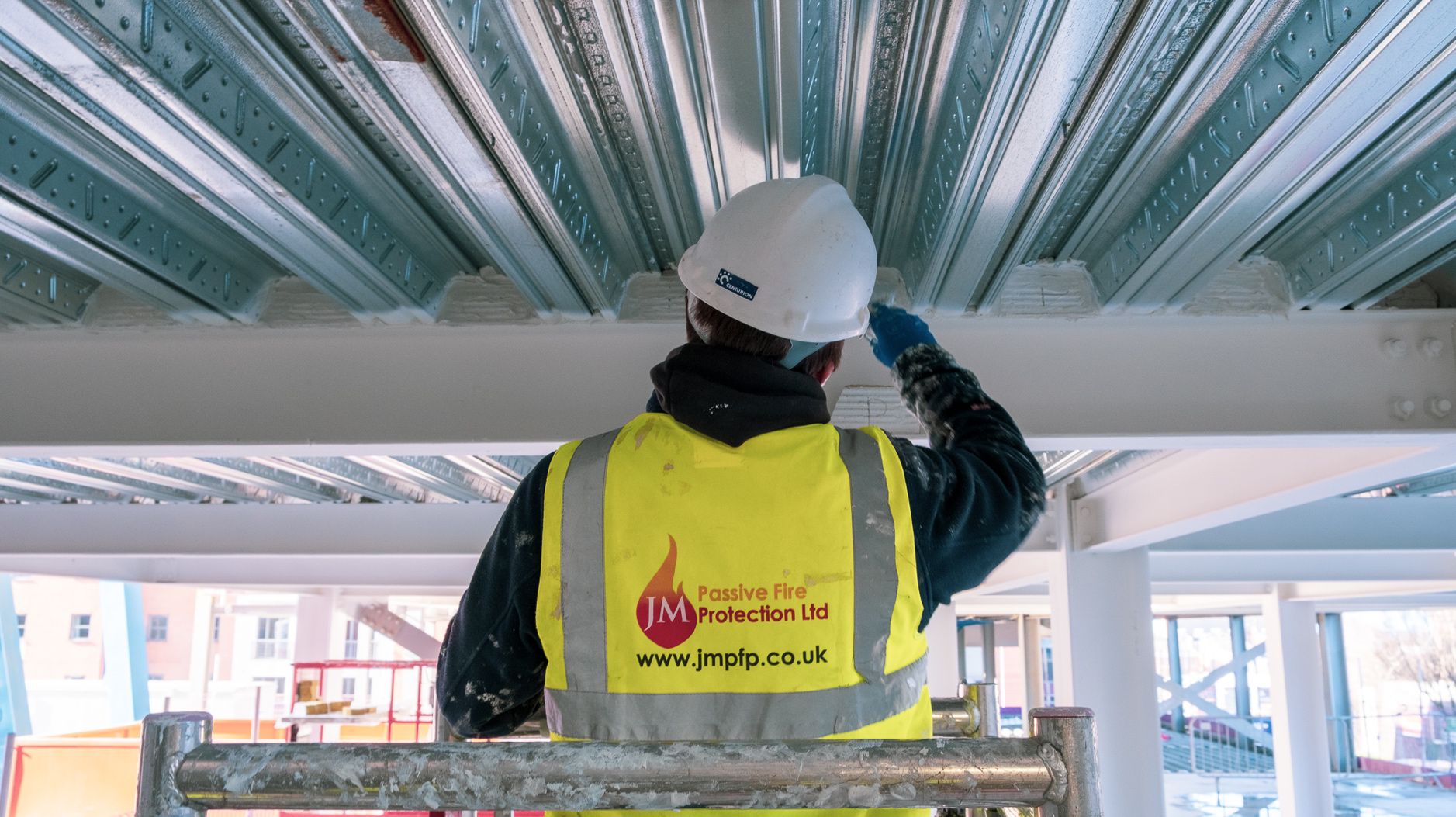 Level 2 NVQ In Passive Fire Protection
Course name: Level 2 NVQ In Passive Fire Protection
Level: Level 2
Price: £850 + vat
Duration: Est: 3 months
Level 2 NVQ In Passive Fire Protection
The Level 2 NVQ Passive Fire Protection course offered by JM Passive Fire Protection is perfect for people looking to take their first steps into a career in passive fire protection and for people with some practical experience looking to enhance that experience with a qualification.
This course involves classroom learning, on-hands practical work in a practice environment in our academy and on-site where you will be monitored by an assessor, who'll be judging your competence, knowledge, and skills in the field.
Your performance will be reviewed against the National Occupational Standards, and, once qualified, you will be able to work in passive fire protection in several construction industries.
What Does Level 2 NVQ Passive Fire Protection Involve?
Not only is this course meant to provide the perfect environment for those new to the industry to get hands-on learning, it will also validate the skills that candidates already have, and, with the help of an assessor, enable learners to further their knowledge and brush up on key components of the practice.
This course is fully practical, meaning that there is no written work or written examinations that need to be completed to pass. The assessment is based purely on the candidate's ability to provide practical demonstrations of fireproofing. Therefore, academic skills like spelling and grammar are not relevant to this course.
Requirements
No previous experience in passive fire protection will be required to enrol on the course as we will accommodate those who are brand new to the industry with the facilities in the academy.
Required practical ability includes:
Correct usage of PPE

The ability to use equipment such as power tools and scaffold towers

Risk assessment compliance

Up-to-date on current regulations

Recording and labelling completed work accordingly
Course Curriculum
Throughout the course, learners will be taught how to perform an array of common passive fire protection jobs, and then use these skills to perform them under observation. Several mandatory units must be completed during this course, as well as some additional options, which include:
Required Modules:
Handling, moving, and storing resources in the workplace

Erecting/dismantling of working/access platforms

Workplace conforming to productive working practices

Workplace conforming to general health, welfare, and safety
Additional Modules:
Fire stopping in the workplace installation

Fire resisting ductwork systems installation

Fire resisting walls and lining erection

Fire resisting timber doorsets installation

Dry cladding installation

Workplace installing cavity barriers

Fire resisting ceiling systems erection

Non-reactive spray coatings application

Workplace applying intumescent coatings
Assessment Process
The assessment process is completed throughout the training course using Onsite Assessment and Training (OSAT). Not only will candidates be taught how to install such components as cavity barriers, fire-resisting ductwork systems, and dry cladding, but learners will also be monitored along the way by an onsite assessor.
Throughout the course, an assigned assessor will visit the training centre regularly and monitor the candidate's process at such tasks as erecting fire-resisting walls, installing ceiling systems, and other routine fireproofing jobs. During these visits, the assessor will collect substantial evidence relating to the candidate's ability in providing Level 2 quality fireproofing.
Throughout the course, the assessor will also regularly quiz candidates on certain topics relating to Passive Fire Protection Level 2, to ensure that the candidate can verbally communicate how to provide fire protection as well as deliver it through practical demonstration.
Once the assessor has collected sufficient evidence, the portfolio will be reviewed by the assessment team at JMPFP. If approved, JM Passive Fire Protection will apply for the candidate's certification.
Timescale
This fire-stopping course typically lasts around 3 months. However, this depends on how quickly the assessor can gather enough evidence to prove the candidate's ability. Where the more advanced may complete the course within 2 months, others may take 6 months or more to prove their capability.
In addition to this, the course may take longer depending on how regularly the candidate can visit the JMPFP training centre.
Cost
Contact us for further information & to see if government funding is available for you.
Why Sit a Level 2 NVQ Passive Fire Protection Course With JMPFP?
Can be done entirely onsite
JM Passive Fire Protection makes it easy for candidates to attain this award, by combining the training with the assessment process. The course takes place entirely within JMPFP's onsite training centre, making it easy for candidates to complete.
Certificate
Once a candidate's portfolio has been approved by the in-house review team, JMPFP will apply for a certificate on the candidate's behalf, which should arrive within 1 month of course completion.
Apply for a CSCS Skilled Worker card
Upon successful completion of Level 2 NVQ, candidates can apply for a blue CSCS card. If a blue card is required during the course, candidates can apply for a temporary Experienced Worker card, which is the red card.
Progression
After attaining Level 2, candidates may have the option to enroll in an NVQ Level 3 course. Alternatively, attaining a Level 2 NVQ will open up candidates' career opportunities, and hopefully increase their earning potential. To put it in qualification terms, a Level 2 NVQ is equivalent to 5 GCSEs, ranging from grade A*-C depending on the learner's final score.
Who Is This Level 2 NVQ Passive Fire Protection Course For?
The Level 2 NVQ Passive Fire Protection Course is for anyone who has experience in passive fire-stopping and would like to validate their skill set in the trade. Anyone can enroll in this course that is currently working as a passive fire protection professional and has between 2-3 years' worth of experience.
Enquire about this course