What Is Meant By Fire Stopping?
Fire stopping is the preventative measure taken to help stop the spread of fire, smoke and heat. This can be achieved by sealing gaps and cavities and cutting off paths that the fire, smoke, or heat uses to travel through a building.
Sub-dividing larger areas into smaller rooms, installing cavity barriers, using fire doors, and sealing openings and joints helps to restrict the vertical and lateral spread of fire.
UK building regulations state that new refurbishments must comply with fire compartmentation measures, which is why it's so important to be sure that your building is safe.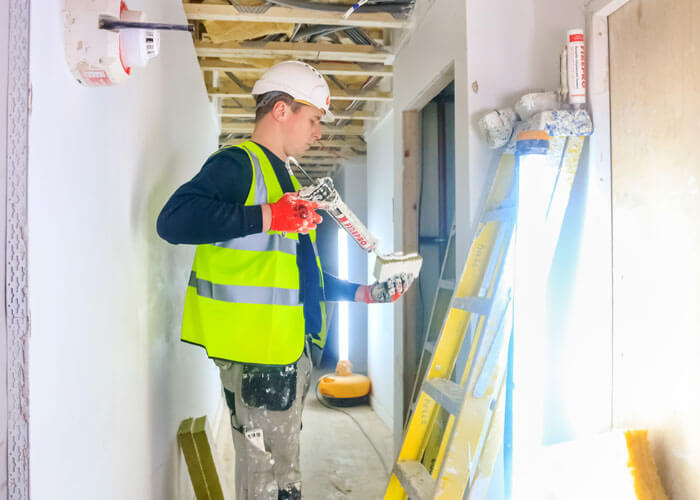 Why Fire Stopping Is So Important
Passive fire protection solutions can save lives and protect the integrity of the building for long enough that the emergency services have the opportunity to stop the fire as safely as possible.
Compartmentalising and slowing the spread of fire, smoke, and heat allows the safe evacuation and prevents widespread structural damage to the building reducing the risk of collapse.
How JMPFP Fire Stopping Contractors Help
We offer a range of services, including providing structural steelwork protection, conduct fire compartmentation surveys, installing fire compartmentation systems and fire doors.
By carrying out a complete survey of the premises, we can provide expert solutions to potential risks. Our installation of fire barriers, firewalls, boarding, soffit insulation, and boarding can help you meet UK regulations and safeguard your premises and the people inside.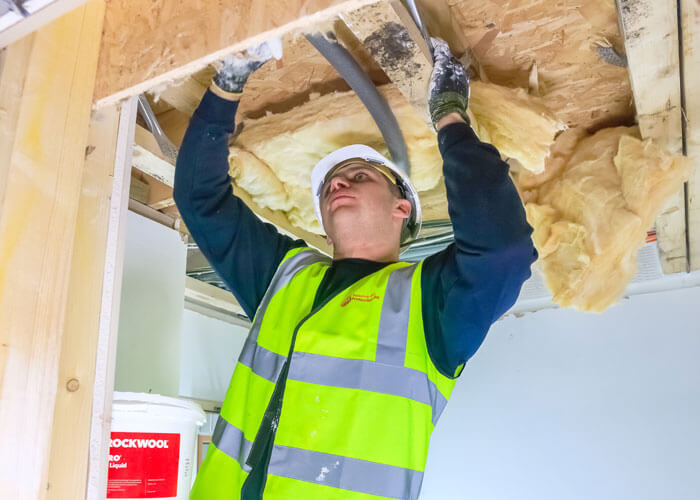 Why Do I Need A JMPFP Fire Stopping Installer?
We are a reputable and trusted fire protection business with a highly competent team to complete the necessary qualifications.
Our list of accreditations is extensive and includes Fusion 21, Achilles, Firas, CHAS, Builders Profile, ConstructionOnline, and Alcumus Group. This gives our customers peace of mind knowing that we are recognised as proficient and compliant regarding health and safety, risk management, fire protection, installation, and more.
Our wide range of services provides fire resistance, passive fire protection, industry-standard fire stopping solutions, and more.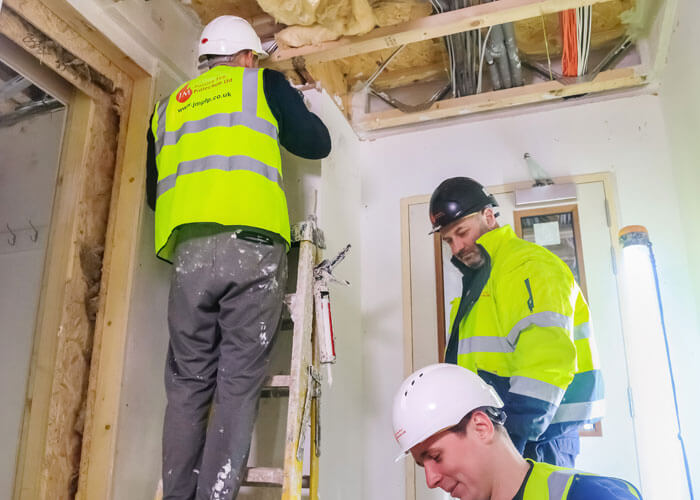 Frequently Asked Questions
Why Is Fire Stopping So Vital In Restricting A Fire?
Fire stopping slows the fire down and stops it from reaching different areas of the building. Being able to stop the fire and smoke from travelling freely through a building will give firefighters more chance of getting the fire under control.
As well as allowing fire services to reach the premises and tackle the fire, stopping the rapid spread will also ensure anyone in the building has time to evacuate safely.
The use of passive fire protection techniques to slow and contain fires allows active fire protection such as sprinkler systems, fire extinguishers, and fire blankets to be used in some cases. It will also allow time for fire alarms to be activated and enable the opportunity to contact the fire services and evacuate the building.
What Fire Stopping Techniques And Services Are Available For My Home?
Passive fire protection is not something that many people focus on. Active protection is much more widespread, with homes being encouraged to fit smoke and fire alarms, homeowners should consider what passive fire protection could do to protect their families.
Creating firestops in your home will create a physical barrier stopping flames, smoke, and deadly gases from travelling freely through your premises.
A fire door is one of the best ways to protect your home and limit the spread of fire and smoke in a home. You might want to consider other firestops in your home, including gap filling around through penetration systems such as pipes or wires that pass through rooms.
The use of fire-resistant materials designed to perform in a fire or smoke emergency is essential. Materials that can be used include;
Gypsum-based plaster
Gypsum-based vermiculite mixes
Gypsum-based perlite mixes
Cement mortar
Cement-based vermiculite mixes
Cement-based perlite mixes
Glass fibre
Ceramic based products
Intumescent acrylic
Intumescent mastic
How Long Does The Installation Of Fire Stopping Protection Usually Take?
Installation of fire stopping protection can differ depending on what passive fire protection products are being installed.
The best way to get a good idea of how long it would take for your premises to reach regulatory standards of fire resistance is by getting in touch with us to discuss the requirements.
A survey may be required to determine what is necessary for each case.
How Long Can I Expect High-Quality Fire Protection To Last?
High-quality fire protection products should have a long life if they are not called into action. With such a varying amount of products and materials, it is difficult to advise a general life expectancy on any one system, but this can be discussed and advised on when we have a better idea of what is required.
The length of time a product provides fire resistance will also depend on the individual product. For example, a fire door has a rating provided by the British Woodworking Federation. These include FD30 for fire resistance of up to 30 minutes, FD60 for 60 minutes, FD90 for 90 minutes, and FD120 for 120 minutes of fire resistance.
Speak To A Fire Stopping Contractor Today
If you are interested in our services, are looking to have a survey conducted on your premises or have any questions, it is easy to get in touch with us by email or phone. Our highly trained team are more than happy to answer any questions you may have.